After the Wayne Rooney affair took over the football world this week, with the matter seemingly closed, we could get back to the football itself.
With all twenty teams in action and 22 goals scored, it was an eventful weekend as usual. Our derby game against Bolton contributed to that tally with two goals evenly shared in a 1-1 draw.
Despite being a fierce rivalry to those involved, it's hardly the highest documented and I don't think I've heard the game referred to as a fierce derby in the media at all in the run up to the game. There were bragging rights at stake however, and both fans earned a share of the spoils.
Latics will be most disappointed not to have taken all three points as we dominated spells of the game and created some good chances with Hugo Rodallega having the best chances, yet he was thwarted by Jussi Jaaskelain
en.
The breakthrough came just before the hour mark when Hugo Rodallega finished off a free-flowing move by slotting past Jaaskelainen to open the scoring. Rodallega combined brilliantly with N'Zogbia and di Santo to open up the Bolton defence; beat the offside trap and find the bottom corner.
Wigan looked dangerous up front and their fast, fluid play caused Bolton endless problems and was always going to create a goal, the only disappointment was Wigan failed to score another and Bolton capitalised on some weak defending to level the scores.
Now conceding to Bolton is painful enough, but it was made worse by the scorer of this goal. Johan Elmander.
To say I don't rate him is an understatement, and to see him score was unbelievable. To be fair he's picked up his game this season, with five goals to his name, yet his ability is questionable. He poked the equaliser past Chris Kirkland, who returned to the team due to Ali Al-Habsi's ineligibility. Kevin Davies headed down a ball into the box, Matt Taylor's complete air shot bamboozled Steven Caldwell and Antolin Alcaraz and the ball fell to Elmander who found the corner of the net.
The points were shared, but the biggest loss of the game was the injury picked up by James McCarthy that rules the energetic midfielder out for up to ten weeks. This is no doubt as huge shame for the Latics who will miss his drive in midfield, let's hope Momo Diame can step up to the plate in McCarthy's absence.
Man United showed the watching world that they can cope without Wayne Rooney, even if they won't need to for much longer, after Javier Hernandez bagged a brace to seal a 2-1 away win at Stoke.
Hernandez, or 'Chicharito' scored a bizarre yet brilliantly improvised backward header to make it 1-0, United looked comfortable with their lead despite Gary Neville's foolishness which should have earned him a red card. His first challenge was harshly seen worthy of a yellow card after he felled Matty Etherington. He then lunged at the winger and got none of the ball, yet all of the man. It was a definite yellow card, yet he got away with it. Fergusons' relief was clear when he took of the full back at half time to ensure he kept eleven men on the pitch.
Substitute Tuncay scored a spectacular equaliser ten minutes from time as he cut in onto his left foot before firing an unstoppable shot past Edwin Van der Sar from 20 yards out. This goal inspired United who relied on Hernandez's predatory instincts to tap home the winner to seal the win four minutes from time. It was a much needed three points for United who proved the doubters wrong and put themselves up to 2nd in the table. Some crisis.
Eastlands was the scene for what looked like an entertaining game between two exciting, attacking sides, the winner was anyone's call, until four minutes in. Derdyck Boyata almost sealed City's fate after seeing red so early on for an unfortunate last ditch tackle on Marouanne Chamakh. The striker was clean through on goal, and although the challenge wasn't malicious, he had to go.
City remained positive and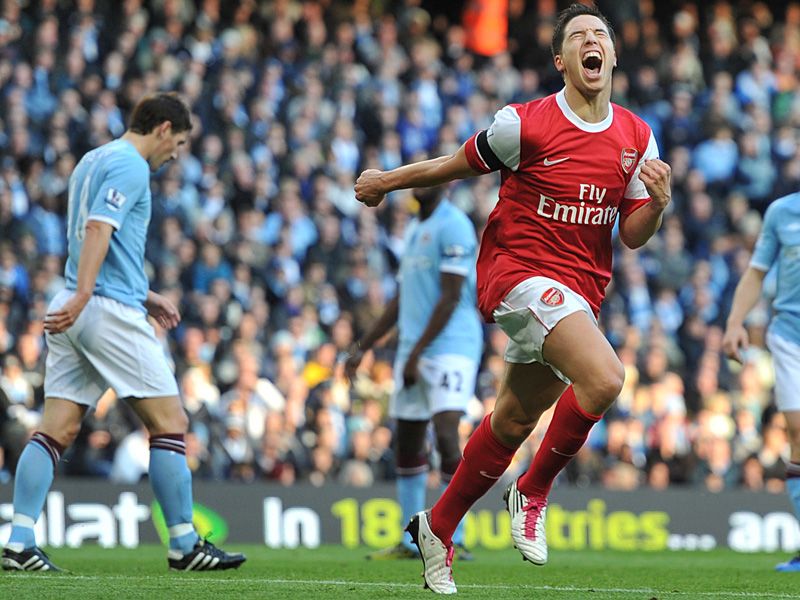 kept two up front, but Samir Nasri's brilliant goal following a one-two with Fabregas made City's task very challenging. They were given some hope just before half time however, with Joe Hart brilliantly keeping out Fabregas' spot kick low to his left, City were unable to use this as a turning point and Arsenal came out for the second half all guns blazing.
Substitute Emmanuel Adebayor had glorious chances to equalise for City, but there was no chance of recreating his infamous celebration last season, as he missed them all. Alex Song then made it 2-0 up the other end to the delight of the Gunners' fans, Dane Nicklas Bendtner came off the bench to put the icing on a 3-0 win.
On the same Sunday afternoon, Anfield was treated to just Liverpool's second win of the season, which wasn't enough to take them out of the relegation zone. Blackburn were the visitors, and Paul Robinson was playing like a man possessed, it looked like it was to be 'one of those days for the Reds' and they've had a lot of those recently. They were denied time after time until the second half until Sotiris Kyrgiakos headed home a Steven Gerrard corner to bring a huge sigh of relief to the home crowd.
The joy didn't last long though, in reply to Richard Dunne's own goal a day earlier, making him the Premier League's highest own goal scorer, Jamie Carragher thought he'd make things more interesting by closing the gap and making it 8-7 to Dunne. El-Hadji Diouf ran through the Liverpool defence before poking past Pepe Reina, Martin Skrtel's goal line clearance smacked against Carragher and rolled in for a comic own goal.
Thankfully for Hodgson, Fernando Torres ended his goalless run to score what proved to be the winner and Liverpool's dominance told. The three points leaves them in 18th place, with just three points separating them and Sunderland in 7th.
Results
| | | |
| --- | --- | --- |
| Tottenham Hotspur | 1-1 | Everton |
| Birmingham City | 2-0 | Blackpool |
| Chelsea | 2-0 | Wolves |
| Sunderland | 1-0 | Aston Villa |
| West Brom | 2-1 | Fulham |
| West Ham | 1-2 | Newcastle United |
| Wigan Athletic | 1-1 | Bolton Wanderers |
| | | |
| --- | --- | --- |
| Stoke City | 1-2 | Manchester United |
| Liverpool | 2-1 | Blackburn Rovers |
| Manchester City | 0-3 | Arsenal |
One last note, watching Match of the Day 2 on Sunday made me wonder about new presenter Colin Murray, he's definitely not Adrian Chiles' standard that's for sure, although easily criticised, he does have a certain jovial sense about him. This is probably due to the great mood that Chiles brought that BBC are trying to replicate, although Murray doesn't quite pull it off, it's pleasant to watch a show with a relaxed mood in contrast to the serious tone of Hansen and Shearer. Mark Lawrenson doesn't seem to impressed with the new boy on the block, I'm not one of Lawrenson's biggest fans and I feel that he doesn't fit in well on the Sunday show.
Yet it hasn't taken a psychologist to work out he seems unconvinced by Murray. He's taken blatant knocks at him over the weeks, yesterday it was when Murray described the League table as 'new technology' much to Lawrenson's bemusement. His tone hasn't been to flattering to Murray whilst making these comments either, previously he's criticised Murray on air for saying David Ginola could play 'at a walking pace' seemingly mistaking his laziness for apparent class. It remains to be seen how the two get on in the following weeks.
The Duke's…
Goal of the Weekend: Leighton Baines' free-kick Tottenham vs Everton, nice to see one of our own doing well.
Blunder of the Weekend: Andre Marriner's failure to send off Gary Neville, Stoke vs Man Utd.
Save of the Weekend: Joe Hart to deny Cesc Fabregas' penalty, Man City vs Arsenal.
This week's teaser: Which three Man Utd players have scored for and against Liverpool in their career?
To discuss this and many more Wigan Athletic issues on the message boards, click here.
If you have a point of view, article, story, promotion or anything else publishing on Cockney Latic, send your details to us and we will get in touch. The email as usual is editor@cockneylatic.co.uk.
The upkeep of the site is funded solely from the advertising on site, from our own pockets and donations from users, if you would like donate it would be greatly appreciated, click here for donation page.