Supporters Club to celebrate 40th anniversary of election to Football League.
After promotion back to the Championship at the first time of asking this season ensured that Wigan Athletic will spend their 14th season out of the last 16 in the top two tiers of English football, it seems hard to believe that this time 40 years ago they were still a non-league side and have actually spent longer as a non-league side than they have as a member of the top four divisions.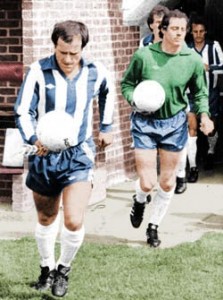 It was on June 2nd 1978 that The Latics were finally elected to the Football League after numerous failed attempts including an audacious bid to join the Scottish Football League in 1972.

40 years on to the exact date the Wigan Athletic Supporters Club will hold their annual dinner celebrating the election to the league and the 40 years that have followed.  Players such as Micky Worswick, Tommy Gore, Noel Ward, Kevin Langley, Peter Houghton, Jeff Wright, Warren Aspinall, Barry Knowles, Nathan Ellington, David Lowe, Graham Barrow and Emmerson Boyce will be in attendance to discuss their memories of playing for this great club flanked by the trophies the club have accumulated over this period including footballs most famous trophy, The FA Cup.
Tickets for the dinner are priced at £30 including 3 course meal. For more details, or to book your place at this superb event visit the Supporters Club website.
Football League Timeline:
June 2nd 1978 – Elected to the Football League
August 19th 1978 – Draw first league match away at Hereford 0-0
August 23rd 1978 – First home match as league club. Lost v Grimsby 3-0
September 2nd 1978 – First league goal scored by Joe Hinnigan in 3-2 loss to Newport County
September 13th 1978 – First league win v Rochdale 3-0
May 8th 1982 – Promoted to Third Division after 3-1 win over Mansfield
June 1st 1985 – Win Freight Rover Trophy at Wembley after 3-1 win over Brentford
April 8th 1997 – Promoted to Second Division after 1-0 win over Colchester
May 3rd 1997 – Win the Division Three Championship after 2-0 win over Mansfield
April 18th 1999 – Win Auto Windscreens Shield at Wembley after 1-0 win over Millwall
April 15th 2003 – Promoted to Division One
April 19th 2003 – Win Division Two Championship after 0-0 draw at Huddersfield
May 8th 2005 – Promoted to Premier League after 3-1 win over Reading
May 11th 2013 – Win The FA Cup after 1-0 win over Manchester City at Wembley
April 30th 2016 – Promoted to Championship after 4-0 win over Blackpool
May 8th 2016 – Win League One Championship for second time
April 21st 2018 – Promoted back to Championship after 4-0 win over Fleetwood
May 5th 2018 – Win League One Championship for third time after 1-0 win over Doncaster