There was some festive cheer across the Premier League in those games that survived the big freeze, and even a Latics away win to write home about.
It's about this time of
the season when fans across the country squeeze into their replica shirts; and after the overdose of Turkey and Christmas pudding, realise that maybe the modesty of XXL might have been a better choice at the start of the season.
At Molineaux, Latics fans were going bananas as Roberto's men sealed a 2-1 victory with two goals is the opening twenty minutes.
The first goal was scored by Hugo Rodallega, who scored a much over due goal having not bagged since the 1-1 draw with Bolton in October. His fourth goal of the season was a decisive finish after Wolves failed to clear their lines from a Latics' corner.
Loanee Tom Cleverley doubled the lead on twenty minutes to top off an explosive start as he slotted the ball under Wayne Hennessey for 2-0. He was again impressive in a must win game for Wigan.
Wolves striker Steven Fletcher got one back for Wolves on 87 minutes with a tap in, yet it proved too little too late as Wigan held on for victory.
The game also showed that Latics had fallen foul of the fashion disasters which are the 'snoods'. The guilty pair were Charles N'Zogbia and Mohamed Diame, as they were caught sporting the infamous neckwear which has came onto the Premier League scene this winter. Regular culprits include Samir Nasri, Carlos Tevez and Yaya Toure; incidentally all seem to be in top form this season so maybe they could bring luck to the DW this winter. No matter how bad the snoods are though, they are nothing in comparison to Mario Balotelli's choice of headwear (right), truly shocking.
This performance at least maintained Wigan's run of recording a League 'double' in each of their six seasons in the top flight. It may be only one of two as well, considering our only potential doubles are over the unlikely Tottenham and the more likely West Brom. Who's taking any bets on that?
After the match, Wolves boss Mick McCarthy was his typical moaning self, he boasted Wolves' bad luck with referees this season as his side had two penalty claims turned down. The first admittedly was a penalty, with Steve Gohouri cynically taking down Steven Ward. Yet the foul that the free-kick leading up to the incident was awarded for was petty. It really is a strong gripe of mine that strong yet clean tackles are being wiped out of our game, McArthur's tackle was strong yet fair, and a foul was given against him. A joke in my eyes. Wolves' other penalty appeal was rightly rejected as the ball struck Antolin Alcaraz's hand incidentally, and claims were desperate as well as invalid.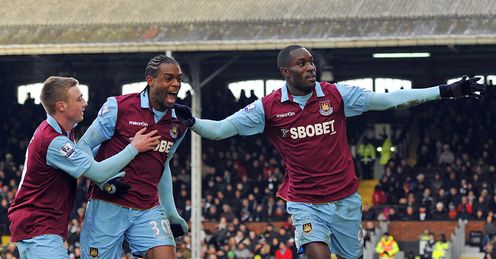 Another game involving sides at the wrong end of the table took place at Craven Cottage, West Ham's slightly surprising and impressive victory means it's even tighter at the bottom and even the Hammers aren't down yet.
Carlton Cole was the star of the show, bagging two crucial goals; the second of which a corker of a finish. His hold up and striker play was truly brilliant as he effortlessly shrugged off Brede Hangelaand time after time, and he isn't small to say the least.
The striking contrast between forward's form was obvious between Cole and Fulham's misfiring marksman Andy Johnson. The latter guilty of missing some brilliant chances, as he fights to try and regain some sharpness. In recent seasons, he's been a thorn in Wigan's side, scoring for both Everton and Fulham on multiple occasions to deny the Latics vital points. Hopefully he'll be in similar form as he was yesterday when Fulham visit the DW next month.
West Ham's other goal came from unpredictable striker Frederic Piquionne, who side footed home a deep cross to equalise. Aaron Hughes had headed Fulham ahead from a Simon Davies cross after eleven minutes.
One gripe I had from the game was John Motson. He's never been my favourite commentator and his best attributes are repeating useless facts over and over and stating the obvious. Never has he been summed up better than his infamous quote: "For those watching in black and white, Tottenham are in the yellow." Almost as cringe-worthy as it is funny. Yesterday we had in drummed into our minds time and time again that Carlton Cole scored at both ends in the same fixture last season, I swear he said it about seven times.
His facts are what really concern me. How can a middle aged man have the time and effort to research such facts like 'Blackburn haven't beaten Newcastle away whilst attacking the Galligate End in the first half when wearing a yellow away shirt since 1876'? Or such likes, whether that quote is true I'll let you research.
Moving swiftly onwards, Man Utd showed evidence that they're once again pushing on going into the New Year as they rampaged past a depleted Sunderland side at Old Trafford.
Dimitar Berbatov fired in two goals as United won 2-0 w
ithout breaking into a sweat, and they were a joy to watch at times. Ryan Giggs was floating behind the front two and Anderson's all action performance in midfield made you wonder where he's been for the past season. Even Wayne Rooney was showing signs of his best as he attempted an audacious chip to finish a flowing move. It would have been reminiscent of Eric Cantona's famous chip over Perez in 1997, same opposition, and the same end of the ground; unfortunately, wrong side of the post.
United outlined their title credentials as this powerful performance will keep the chasers on their toes. It's easy to forget the Red Devils are still unbeaten amongst their problems of an apparent 'lack of form' and the Wayne Rooney saga. All seems to be resolved now and are my tips to regain their crown come May from Chelsea.
Results
| | | |
| --- | --- | --- |
| Fulham | 1-3 | West Ham United |
| Blackburn Rovers | 0-2 | Stoke City |
| Blackpool | P-P | Liverpool |
| Everton | P-P | Birmingham City |
| Manchester United | 2-0 | Sunderland |
| Newcastle United | 1-3 | Manchester City |
| Aston Villa | 1-2 | Tottenham Hotspur |
| Wolverhampton Wanderers | 1-2 | Wigan Athletic |
| Bolton Wanderers | 2-0 | West Bromwich Albion |