This weekend was when Wigan finally hit rock bottom in the Premier League after the defeat to Man United, surely the only way is up? Meanwhile, the FA define injustice and Birmingham have a shock cup win.
Wigan results against Man United are as rare as rocking horse manure, with no Premier League points to our name against the league leaders and just three goals in twelve meetings.
Considering our two 5-0 hammerings against the Red Devils last season, Saturday's 4-0 defeat can be seen as an improvement at least. But that's like saying the Rwanda genocide was an improvement on the Holocaust.
Yet it's the manner of the defeat that leaves a bitter taste in our mouths.
Just as it did in March 2006, when Paul Scharner had given us the lead in United's first visit to Wigan for a league match. Yet United still triumphed, despite only having one shot on target. Cristiano Ronaldo equalised and Pascal Chimbonda's last minute own goal won it for Fergie's boys. A part of me wonders if he did it on purpose…
Deep down, I think every Wiganer knew that Saturday's match would end in defeat for us, yet the first half performance was encouraging, with Edwin Van Der Sar being forced into a few important stops to keep it at 0-0.
Yet United's opener dampened Wigan's spirit and halted early momentum as Chicarito slotted past Ali Al-Habsi. This was a turning point in the game as Wigan don't come from behind to secure results often at the best of times.
In the second half, Martinez's men capitulated and United took full advantage. It wasn't a 4-0 performance, yet it was a 4-0 result.
What angered me most about the game was United's victimization of danger man James McCarthy.
From the first minute, Paul Scholes made sure the Scot knew he was there. I have no problem with this as long as it's fair and within the laws of the game, clattering him endlessly obviously doesn't match this description.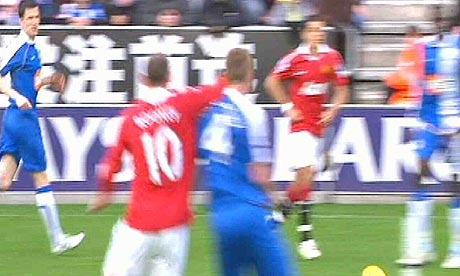 Then came the infamous Rooney incident, which has made me genuinely angry. Rooney clearly elbowed McCarthy in the face, that is assault in my eyes. If I went into the street and did that to a member of the public, I'd expect to get arrested. To make matters worse, Mark Clattenburg had a clear view of it and only gave a free kick.
It's truly unbelievable how he say the incident and genuinely thought 'that's a free kick, but nothing more'. Especially in an age where players get booked for sneezing close to another player.
Rooney's childish behaviour was a stone wall red card, and kids watching that seeing it go unpunished and therefore acceptable is wrong. Everyone knew it was a red, the fans, players, pundits, and even the FA.
And now the FA have released a statement saying Rooney has got away with it, has the world gone mad? Have the whole of the FA had a bleeding stroke? He elbowed a player in the face, that can't go unpunished. The fact that the FA are scared of Ferguson and his bunch of stuck up cheats is quite frankly frightening and if the police treated criminals in such a manner, the whole theory of justice would collapse.
To top it off, Ferguson goes out and defends Rooney. Oh dear, that has left me speechless, there really is some things you can't defend. Like an in form Emile Heskey, but a petulant idiot like Rooney is another matter.
DJ Campbell must be frustrated at the matter. He, quite rightly, got sent off for Blackpool against Wolves for pushing Richard Stearman in the face. He will now serve a three match ban and has the shame of getting a red card leading to his side's 4-0 defeat.
Rooney on the other hand, gets away with murder. Shocking.
Not I've got that little rant out of the way, I think it's time to turn attentions to the ever depressing relegation battle to lighten the mood. Or maybe not.
Wigan's defeat sees us drop to the foot of the table, results conspired against Martinez to add even more importance to our remaining ten games.
Wigan require four wins and a draw, to get the 'magical forty points'. Which is easier said than done for a team that's only won five all season. If we do achieve it though, I think every Wiganer will be having forty pints!
West Ham's gaining of form has came just at the wrong time for Wigan as they seem to be gaining momentum for their survival push. Importantly for them, Scott Parker seems more determined than ever, and their strike force of Keane, Cole, Demba Ba and Piquionne seems likely to get them goals. More than the likes of Rodallega and Di Santo look capable of scraping together anyway.
The Hammer's determination seems unrivaled at the bottom and I can see them getting out of it, yet if there's any hope for us; they do have a hard run in, with Tottenham, Man United, Chelsea and Man City left to play. Yet they could get the four wins they require against Stoke, Bolton, Blackburn, Sunderland and/or finally: us.
Wolves are a team that seems to be on the up following their recent run of results which sees them out of the relegation zone. A home win against Blackpool won't raise too many eyebrows, yet the addition of Jamie O'Hara and the sudden appearance of goals is a positive sign for them.
The three that appear to be looking down and sinking fast are West Brom, Blackpool and unfortunately, ourselves.
Of course there's hope for us all, West Brom have Houdini Hodgson in charge; Blackpool's attacking prowess means they can score goals and despite our poor results, we're still of a similar quality to those around us.
Of course the realist has to be worried, as do the optimists and the pessimists (of the latter there are many). We look shaky at the back, passive in midfield and lightweight in attack. Yet we do try and play football to keep the purists interested and the four games against Birmingham, Blackpool, West Ham and Stoke could provide the wins we need to stay up.
It does look bleak and I have to say I do think we'll go down, yet we must keep believing, who knows what might happen? Lets make the potential end of our spell at the summit of English football memorable.
The Duke's
Goal of the Weekend: Not many corkers, yet Jamie O'Hara's strike was the best of the bunch
Save of the Weekend: Any of Ben Foster's great saves to deny Arsenal and hand Birmingham a shock 2-1 win to increase Wenger's wait for a trophy.
Blunder of the Weekend: Rooney's infamous elbow and Emile Heskey's open goal miss to add to his collection
This Week's Teaser: Who was the first player to get a prison sentence for an offence committed on the pitch?