Many generalizing journalists fall into the trap of failing to go two paragraphs into an article regarding Wigan without a reference to pies. Although I'd like to think I'm better than this, I've fallen into the trap once again, as early as the title. Yet it's a phrase which is very much relevant for Latics' current situation. Will Martinez's men be left with Pot Luck under Churchill today, or Humble Pie under Hitler tomorrow? At this point I really should have a photoshopped image of the famous World War II poster with this quote on, but with Roberto Martinez and Gary Megson on the pots instead of Churchill and Hitler. Three points at Villa Park would go down very nicely for Tics fans who were hoping to go an extra step towards pot luck on Saturday. It's not unheard of either. Latics are still unbeaten at Villa park in our Premier League years and have even managed to win there three times, all were significant results too. In October 2005, with Latics the new boys on the block, we steamrollered past Villa with a masterful display from John Filan the base of a 2-0 victory. Aaron Hughes' own goal and Alan Mahon's screamer the goals that afternoon. This result propelled little Wigan into 2nd place, and Chelsea's biggest title challengers. Needless to say the title challenge didn't see it all the way to May. Steve Bruce took a very different looking Latics team to Villa Park in 2008 where a victory would seal our survival. With even the optimists looking at a draw, Antonio Valencia struck with two quick fire long range goals to seal another 2-0 away win and 40 points secured.
Just to show the contrast between the two Latics teams mentioned, the winning goalscorer in 2005 was Alan Mahon, who's now at Tranmere Rovers. The match winner in 2008 Antonio Valencia? He's done a tad bit better of course. Finally, the third Villa Park victory was of course Martinez's first in charge last August. Everything looked rosy with a majestic 2-0 win coupled with a brilliant performance, we followed it up with a 1-0 home defeat to Wolves which summed up last season's inconsistency. Roberto would have killed for a repeat on Saturday, as usual he got a good performance, but it's wins we need at this stage. Charles N'Zogbia opened the scoring for the second weekend in a row by netting a beautiful finish past Brad Friedel after ten minutes. Wigan though, couldn't hold onto the lead as Ashley Young's weak free kick snuck in at the near post past the unlucky Ali Al-Habsi, who was anticipating a curling effort into the opposite corner. It was back to square one for Latics and we didn't quite look like we had the clinical touch in the final third from there onwards. Still, there was Big Emile to keep us all entertained. I do miss seeing him in blue and white, I really do.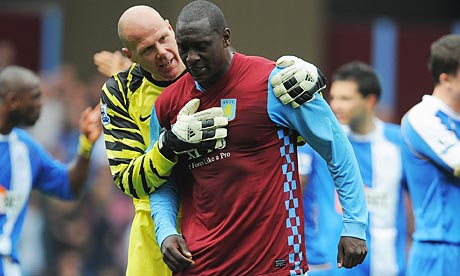 Usually the gentle giant, Heskey showed us all his aggressive side by becoming 'Angry Emile' by barging into the referee Mike Jones as he waved play on after what Emile perceived to be a foul. Heskey needed to be calmed down by veteran Brad Friedel and supposedly turned aggressive once more in the tunnel at the end of the first half, prompting an immediate substitution. This comical performance means he snatched the fast becoming 'Impression of the Week' for his remake of Paulo Di Canio's incident with Paul Alcock. He does lose marks for the lack of blatant push and referee dive though. It is strange to comprehend how one decision going against him was enough to make Heskey snap, yet years of constant, undiluted abuse hasn't. Ali Al-Habsi meanwhile, unfairly criticized on Match of the Day by 'experts' Alan Hansen and Lawrenson, saved a point with his save when Darren Bent went clean through on goal. Gary Caldwell was nowhere to be seen as his desperate sliding tackle left every Latics fan with their heart in their mouths for a couple of seconds and a sharp intake of breath. Thankfully, Ali stood tall and did the business to deny a striker apparently worth £24 million. This point would have been enough to take Wigan out of the bottom three had Spurs done the honorable thing and beaten Blackpool. Yet Blackpool took their fourth point off Spurs this season as they secured a 1-1 draw, just like ourselves. It could have been even worse had Jermaine Defoe not netted in the 89th minute. The combined results leave Wigan in 19th now after Wolves' 3-1 win over rivals West Brom, who had nothing to play for. Here are the remaining fixtures for each of the six teams involved and my score predictions. 15th Blackburn 39 Points Man Utd (A) Loss Wolves (H) Draw 16th Birmingham 39 Points Fulham (H)Win Tottenham (A) Loss 17th Wolves 37 Points Sunderland (A)Draw Blackburn (H) Draw 18th Blackpool 36 Points Bolton (H)Loss Man Utd (A)Loss 19th Wigan 36 points West Ham (H) Win Stoke (A) Draw 20th West Ham 33 Points Wigan (A) Loss Sunderland (H) Draw Going off these results my bottom three are West Ham (34); Blackpool (36) and Wolves (39). With Ourselves, Birmingham and Blackburn out of danger with 40, 40 and 42 points respectively. This is one of the first times this season that I've done the maths and thought we'd stay up. It all hinges on the West Ham game, and yes I will be there. I wouldn't miss it for the world and I hope the whole support gets together and really make a difference, a win will save our season. At the other end of the table of course, barring a repeat of the Hare and the Tortoise tale, United have their 19th top flight title in the bag following a 2-1 home win against Chelsea. This score line leaves the Blues six points behind with two games to play, and unless the United team go to sleep and lose to Blackpool and Blackburn, the United fans can rub Liverpool's noses in the dirt after finally overtaking their record of 18 title wins. A total of 12 in the last 19 years.
United introduced their best player to their staring twelve for the fixture, with midfield maestro Howard Webb playing his usual playmaker role. As usual he was incredibly biased towards Ferguson's team, awarding them free kick after free kick and earning the MUTV Man of the Match award followed by a huge cheque from the Glazer family. Hats off to the finely polished boiled egg, he's been magnificent for United over the years. Finally, a rallying call to everyone at Wigan for our relegation run in. We've had Churchill, well now we're having a bit of the Duke of Wellington. We had our very own Duke Ellington not so long ago, well now I quote his (kind of) name sake when I say 'Up, Guards and At 'Em!' (Also the new album title of the brilliant The Pigeon Detectives may I add). Lets get behind the boys and look forward to a further year in the top flight next season… The Duke's: Goal of the Weekend: Jermaine Defoe's powerful strike, Tottenham 1-1 Blackpool. Gave me great pleasure to see that one go in! Save of the Weekend: I'm going to be biased and give it to Ali for his last minute save against Darren Bent Blunder of the Weekend: Bolton equalize in the 87th minute, point sealed? Wrong. Zat Knight's own goal in the 93rd minute gave Bruce an even later win. Bolton 1-2 Sunderland This Week's Teaser: Who's the only player to score in a Manchester, Merseyside and Glasgow derby?