This Premier League weekend through up a few surprises. There were shock wins, shock goals and some shock facts, with the Midlands the centre of the shocks.
I'll start off, as always with the Latics. The goalless draw at St. Andrew's will hardly have raised any eyebrows across the country, neither will it have been one of the highlights of the day, however it was a point nonetheless.
Wigan travelled to Birmingham on the back of two winless home games against Sunderland and Man City, knowing that the Blues haven't lost at home in exactly 12 months, few would have anticipated a Wigan victory.
Wigan lined up with the 4-2-3-1 we've been used to seeing over the last year or so, changing into a 4-3-3 when necessary. Hugo Rodallega was moved up front and looked more dangerous, Hendry Thomas was given a full ninety minutes in the holding midfield role and Ronnie Stam kept his place on the wing. The pre-match build up however, was stolen by Charles N'Zogbia.
The french winger could easily have been playing in this fixture as a Birmingham City player had he accepted a move there in the summer, so to come back as a Wigan player still would have annoyed a fair few Birmingham fans. He attracted the expected hostile reception, but let his football do the talking. He looked sharp on the wing and caused the Birmingham defence a few problems, although he couldn't find the breakthrough.
The game started with a reasonably high pace, with Rodallega and N'Zogbia both being thwarted by Ben Foster. Cameron Jerome looked the most likely to score for the home side, he was denied by Al-Habsi and Wigan's loanee keeper was called into action again to keep out an Alexander Hleb free kick.
He's the one player on the Birmingham side that worried me when I saw the line-ups. He was a key player for Arsenal not long ago, and earned himself a move to the Nou Camp. Although things didn't quite work out for him there, he has undoubted class and ability that could unlock plenty of defences. I still think he's adjusting after spending a couple of seasons on the sidelines, but expect to see a different player at the DW Stadium when the two sides meet in March.
As I read on the message board, this result means Wigan are the only one of the 92 Football League clubs yet to concede an away goal. Who'd have thought eh?
The biggest piece of action
in the second half, or the whole game for that matter, was Craig Gardner's dangerous lunge on substitute Franco Di Santo. The Latics striker had only been on for half an hour before being taken off after a poor two footed challenge from Gardner earned the former Villa man a red card.
Staying in that area of the country, Sunday witnessed a Midlands derby between Wolves and Aston Villa which saw the return to the Premier League of Gerard Houllier.
He got off to the perfect start, with an excellent 2-1 win, the shock here being the winning goalscorer. Emile Heskey.
He's had his fair share of stick over the years, but you have to admire his humble approach to life on the whole. When you see the likes of Wayne Rooney swearing at his own fans, Nani diving everywhere and Ashley Cole rowing over an extra five grand per week, it's very refreshing to see a character like Emile Heskey in the top flight.
I've always liked him as a player, although he's not the most prolific, he'll give 100% without exception. As a fan, that's what you want from a player the most. I've seen players crucified on the terraces over the years for being 'lazy' and that's not an accusation you can throw at Emile Heskey. He's so thick skinned, and I was delighted to see him score, and what a header it was too.
Many have pointed to Houllier's appointment as a possible revival for Heskey, and now he's scored two in two games, they could be right. There's those certain players that, for some reason, play much better for certain clubs or managers than they do for anyone else. Thin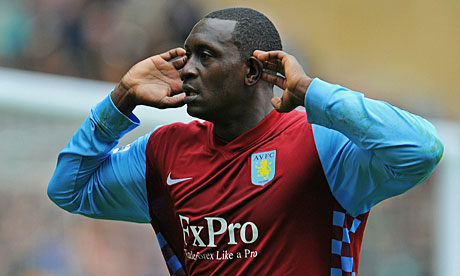 k about the likes of Robbie Fowler, Liverpool legend, then he left and couldn't hit a barn door at City. When he rejoined Liverpool it was like him being reborn, he was scoring again. I've heard a few that think that Mr Ellington might have been the same had he came back to the JJB, and Heskey could be like that with Houllier.
There was one more shock involving a Midlands club, and there's no prizes for guessing which one.
Yes, it was West Bromwich Albion's amazing 3-2 win at the Emirates to stun Arsenal, and the rest of the country.
Looking back, West Brom may be a little disappointed that they only won 3-2, as cheeky as that sounds. Chris Brunt missed a penalty, before the Baggies went 3-0, yes 3-0 up with 15 minutes to go. That scoreline would have reflected the game well, because West Brom were excellent, although Samir Nasri did get two late consolation goals for Arsenal, West Brom should be delighted with that result. As I can guarantee that they would have taken a 3-2 win before kick off.
This game threw up the same old argument about Manuel Almunia, how he isn't good enough and how Arsenal will never win the league without a better keeper. I would say that Almunia isn't a great keeper, and Arsenal could do with someone better, yet I think it's extremely harsh how everyone sees him as a scapegoat for Arsenal's recent lack of silverware. It's a team game, and if the league was decided on who has the best keeper, then what's the point in having the other ten players? The whole team has to take responsibility for this defeat, and it's team performances like this, and not Manuel Almunia, which is why Arsenal aren't classed as genuine title candidates.
The craziest moment of the weekend has to be that mad opening goal from Dirk Kuyt at Anfield, what a catastrophe that was.I think we're all familiar with what happened, but I'll explain regardless.
Sunderland had a free kick deep inside their own half, defender Michael Turner trotted over to the ball and knocked it back to keeper Simon Mignolet, which seemed as routine and innocent as ever. Almost everyone thought that he was simply knocking the ball back to where the free kick should have been taken, everyone that is besides Fernando Torres and referee Stuart Atwell.
Torres raced onto the loose ball, before squaring for Dirk Kuyt to tap home. Even then, most would have expected the ball to be brought back, yet Atwell bizarrely let the goal stand, and Liverpool were ahead. It seems that Liverpool vs Sunderland games are never short of crazy goals, remember last season's beach ball goal? This seems to have levelled it up. I'm sure most reading this will have enjoyed seeing the rage on Steve Bruce face with the disbelief of seeing that goal stand.
The FA, as ever, were quick to back their referee, with one of the most pathetic excuses I've ever seen. Apparently, a sign to take a free kick can be extremely subtle, even as little as a wink or a nudge can indicate the permission to take a free kick, and Atwell apparently gave a subtle sign. What that was I don't know.
Can I ask why the FA don't just admit that he got it wrong, rather than making up another rule to back their hopeless referees? Why can't Atwell come out on television and explain his actions? He'd get alot more certaintly get more respect for doing that.
Sunderland did come back, much to my joy Darren Bent scored twice, and he's in my fantasy football team. It's strange how you start following other club's players to see how they've got on just because of your fantasy league team. With Liverpool desperate for a point, they scored a second half goal from Steven Gerrard, again from a Torres cross. The eventful game ended two each.
Elsewhere, despite N
ani's wonder goal, Man United could only manage a 2-2 draw at the Reebok. Michael Owen came off the bench to snatch a point, Zat Knight and Martin Petrov had twice put Bolton ahead.
Another team that wouldn't keep hold of a lead was Newcastle. They lost 2-1 at home to Stoke, with Toon defender James Perch scoring an unfortunate yet clumsy own goal. Kenwyne Jones scored the equaliser, his fourth goal in as many games, Kevin Nolan's penalty had put Newcastle ahead. Perch wasn't alone in scoring an own goal, at Bloomfield Road, Blackpool captain Charlie Adam was the culprit of a bizarre own goal to gift Blackburn the lead. In an attempt to cushion the ball back to keeper Gilks, Adam got too much on his header and saw the ball nestle into the back of his own net. Debutant Matt Phillips thought he'd rescued a point for Blackpool, before Brett Emerton bagged the winner in injury time for a 2-1 victory.
Saturday's early kick off saw Chelsea's bubble burst at Eastlands, the free scoring Blues couldn't find a way past an inspired City defence, with Kompany, Toure and De Jong all impressing. Carlos Tevez scored the second half winner when he fired through Ashley Cole's legs and past Petr Cech. Ancelotti made the crazy decision to substitute star striker Didier Drogba when Chelsea most needed a goal, presumably to sow the team that nobody's 'undroppable' and they must all perform. Chelsea inevitably lost firepower without their number eleven, and couldn't find an equaliser.
That leaves just two games left unmentioned, firstly West Ham shocked rivals Spurs to claim their first win of the season a Upton Park, with striker Freddie Piquionne netting the winner in a 1-0 triumph. I think the problem with Spurs is their apparent problem fitting new signing Rafael Van der Vaart into their system. Redknapp obviously regards him as too talented to leave on the sidelines, but with so many talented midfielders, who does he leave out? This has seen him abandon the 4-4-2 formation that was so effective last season in favour of a 4-2-3-1, which the squad seem to have problems adjusting to. It'll be interesting to see who makes way when Jermain Defoe is fully fit again.
Sorry Fulham and Everton fans, I know it's not quite like being last on Match of the Day, but you last on my weekend review after an uninspiring 0-0 draw at Craven Cottage. The only talking point of Everton's weekend, despite being rock bottom of the league, is the unveiling of their new third kit. Which apparently is a 'vanilla' colour, just in case they draw a team away in the FA Cup that play in Blue and Flourescent Pink half's. What are the chances eh? A stunt to bring in more revenue I think.
The Duke's…
Goal of the Weekend: Nani, Bolton vs Man Utd
Blunder of the Weekend: Stuart Atwell topped his 'ghost goal' at Watford with this free kick howler at Anfield
Save of the Weekend: Rob Green, to deny Luca Modric West Ham vs Tottenham, that'll do his confidence a world of good
This Week's Teaser
West Brom won 3-2 at the Emirates on Saturday, but who were the first team to win a league game there, and who scored the winning goal?