This weekend's Premier League saw some highs and lows, good pitches, a lack of singing at the DW and a Latics win to set the tone.
I'll start off with Wigan's win at home to Wolves.
The three points were very much in need, with Latics start to the season at home not being great to say the least. Two disastrous defeats and only one goal isn't much to write home about. Oh did I mention Gary Taylor-Fletcher scored against us too? This game gave Wigan the chance to get some much needed points on the board. They were helped by Wolves' Karl Henry.
The game had made a slow start, with neither team seizing the initiative, both finding their rhythm until on eleven minutes the game changed dramatically.
Out of the blue a red card was given after Karl Henry's wreckless challenge on Jordi Gomez gave Lee Mason no choice but to send him off.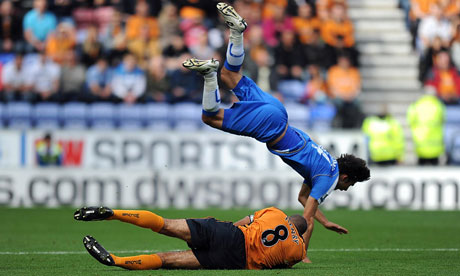 Gomez wasn't in a penetrating position, yet Henry came flying in and took none of the ball. Gomez was lucky not to be nursing a broken leg, and Wolves were down to ten. I want to know what was going through Henry's head because it was a totally needless challenge, I hope he's not that late for the team coach. Even Mick McCarthy didn't complain about it, it was that bad.
My immediate worry was that Wolves would go very defensive and Latics would struggle to break them down, think Sunderland.
As expected though, from that moment on Wigan dominated possession yet didn't have the cutting edge up front to find the opener. They only had half chances to make note of up until half time.
Promisingly, Wigan came out for the second half with a faster tempo which was causing problems. Rodallega partnered Di Santo up top and Latics looked a more potent force, it made a difference almost immediately after the break as Rodallega dummied a Gomez pass into Di Santo. The Columbian span off his marker and took the return pass from Di Santo in his stride, he looked set to pull the trigger but intelligently squared for Di Santo who looked set to score from eight yards, until Marcus Hahnemann made an excellent last ditch save. The warning signs were there for Wolves as Wigan attacked, we only needed the breakthrough.
And what a breakthrough it was.
Charles N'Zogbia was fouled on the edge of the box, and we all expected Hugo Rodallega to either smash the ball into the wall or way over the bar. Yet Jordi Gomez stepped up and smashed the ball into the top corner with a sweet strike. Sky's Alan Smith complained that Marcus Hahnemann should have that corner of the goal covered, I'd love to see Alan Smith try and save a shot of that velocity and power.
Wigan continued to attack, and the points were made save five minutes from time when Hugo Rodallega was put through by Charles N'Zogbia. The striker got a little lucky when Christophe Berra's slide tackle deflected off him and past Hahnemann, yet it was great vision by N'Zogbia to spot Rodallega's run and slot him in. It was a great goal to top off an important win.
Referring to my comments in the opening paragraph, it was disappointing to hear a lack of singing coming from the home end. Admittedly, this does make me a hypocrite as I didn't go to the game, but living an hour and a half away makes it so much easier to watch the game on Sky.
My point is that those that were at the game made little noise, I couldn't care less about our low attendances as long as the ones there make some noise. When I go I do sing so I feel like I'm doing my bit. All I heard on Saturday was a couple of low level 'Come on Wigan's' which would neither intimidate me as an away player nor encourage me as a home player. Although, I will make it to the Bolton game, promise. And I will sing too.
Meanwhile, the biggest surprise of the season so far came at Anfield as Blackpool shocked Liverpool to claim all three points with a 2-1 win.
Charlie Adam converted a first half penalty after Luke Varney was fouled by Glen Johnson, the former Crewe striker then made it 2-0 when he latched on to an excellent Gary Taylor-Fletcher chip to smash past Pepe Reina and shock the Kop.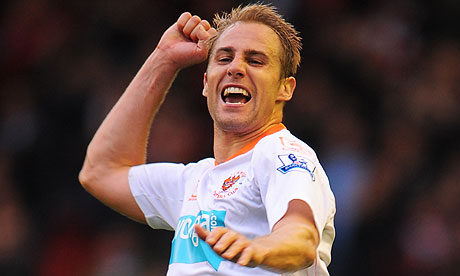 Liverpool's Sotirios Krygiakos headed home to make it 2-1, but the Red's couldn't find an equaliser and suffered an embarrassing loss.
Alarmingly, Liverpool seemed to lack pace, cutting edge and most worryingly, courage. The result left Ian Holloway over the moon and Roy Hodgson contemplating another bad result. He's now said that the club are in a relegation battle.
Liverpool's problems seem endless, Torres can't keep fit; some fans want Hodgson's head and all fans want the owner's heads.
It really annoys me that some fans want Hodgson to go already, he's only had seven games! Give him a chance. I feel for him as he's been left with the poor squad that Benitez left him, and has a lack of funds to improve the squad enough. The players he's been able to brought in, bar Joe Cole and Raul Meireles, haven't been great. Paul Konchesky, Danny Wilson and Brad Jones aren't Liverpool material. I'm also talking about the likes of Lucas Leiva, Fabio Aurelio, David N'Gog and Maxi Rodriguez. Are these players that legends such as Dalglish, Hunt and Rush will look at and say 'Yeah, the club's in good hands'? The answer is no.
I won't worry alot about Liverpool's problems however, being a Latics fan means I have enough problems to worry about.
Liverpool's once top four rivals Tottenham were in action against Aston Villa, winning 2-1, with Rafael Van der Vaart running the show at White Hart Lane.
He was my player of the weekend in fact, he was centre to all Spurs' attacking play, and the orchestrator of all Villa's defensive problems.
I said last week how Spurs were having trouble fitting him in without disrupting the balance of the team. Harry started Van der Vaart on the right, with Aaron Lennon dropping to the bench, he played very well there (Van der Vaart that is) yet it wasn't until he moved to play just off Crouch that he played brilliantly.
Van der Vaart was a constant thorn in Villa's side, with nobody knowing who to mark him, or getting anywhere near him. It was appropriate that he scored both goals as Spurs came from a goal down to win.
The first was a header from a Peter Crouch knock down to level the score, the second was very emphatic. He dummied a pass to make Richard Dunne look a fool, before smashing the ball past Friedel to seal all three points.
Spurs were given a scare in the first half as Sebastian Bassong failed to cope with Emile Heskey's strength, the striker then squared for Marc Albrighton to slide in.
Albrighton has impressed me, he's came on the scene since James Milner's departure and has taken his opportunity very well. He's quick, tricky and very hard working, he always helps out his full back and is a breath of fresh air. He'll be in the first team for a long time to come.
Tottenham's top four rivals Man City also got three points after winning 2-1 against a determined Newcastle side. The talking point of the game was Hatem Ben Arfa's broken leg.
There were no prizes for guessing the culprit, Nigel de Jong. His tackle was hard and dangerous despite winning the ball. He wasn't even given a foul against which would have annoyed the Magpies. The saddest part of it all? Ben Arfa is in my fantasy football team, so it's not a good week for me. Oh I'm a sentimental old fool.
Carlos Tevez gave City the lead from the spot, making it two goals in two games for him, Newcastle winger Jonas Gutierrez then equalised.
Substitute Adam Johnson then fired home from the edge of the box with his first touch to make it 2-1 and win the game. What I don't understand is why he doesn't start for City, surely a fluid attacking three of David Silva, James Milner and Adam Johnson operating behind Carlos Tevez is worth dropping one of Yaya Toure, Nigel de Jong or Gareth Barry for?
I'm delighted to see him Johnson in the England squad, he's such a great talent and can give the creative spark on the wing as well as the ammunition for Darren Bent. I'm also delighted to see Jack Wilshere's top form being rewarded with a place in the squad, he's a player I rate very highly and will go on to earn many caps.
A shock introduction to the squad is Bolton's Kevin Davies, especially considering he was released by Southampton eight years ago, even if he's only in because Capello couldn't get Heskey. Although it's great to see a wildcard from a 'smaller team' in the squad, what does he bring to the squad? Physicality yes, but that's nothing that Peter Crouch or Carlton Cole wouldn't give.
Davies' striker partner Johan Elmander surprised everyone when he scored, again. To say the least I don't rate him too highly, a £9 million striker should be scoring more than four goals a season. Yet he's starting to find his feet in English football now. His Bolton team couldn't hold on at the Hawthorns though as James Morrison (the player not the singer) made it 1-1 to earn West Brom a point. It's a real contrast to their result last week.
The match dubbed as the game of the weekend was at Stamford Bridge where Chelsea faced Arsenal. It was very easy on the eye despite not being the most eventful of games. Both sides played fluid, attacking football, and Chelsea came out on top with a 2-0 victory.
Didier Drogba made it 13 goals in 13 games against Arsenal, and astonishing record, after he opened the scoring. Both teams had chances, yet it was Chelsea who got the second goal when Alex scored an amazing free kick. He lined it up, 30 yards from goal, and just walloped it as hard as he could, reminiscent of a prime time Ged Brannan, okay maybe not. The power and swerve on the Alex's shot made it fly past Fabianski. Was it better than Gomez's? I'll let you decide on that one.
Elsewhere in East London, there was a case of de ja vu as Clint Dempsey scored past Rob Green. Needless to say this shot was considerably harder than 'that one' in Royal Bafokeng in June.
Frederic Piquionne headed home the leveller to make it two goals in two games for him. It was a precious point for West Ham who are now unbeaten in three games.
Birmingham City's impressive 18 match unbeaten home run came to an end as Everton won at St. Andrew's. An own goal from Roger Johnson and a Tim Cahill goal meant the Toffees earned a precious 2-0 win. Birmingham fans had the audacity to boo their team after this loss, their first at home for over a year. It's a good job they aren't Latics fans, that's all I'll say on the matter.
Stoke managed a win at the Britannia against Blackburn thanks to Jonathan Walter's first Premier League goal, the final score was 1-0. There was also proof, if any was needed, that Sky are obsessed with Man Utd. Football First's 'Game of the Day' was Man Utd vs Sunderland, which by the way was a 0-0 draw. Why not have Spurs vs Villa on? You know, the game with goals?
Sunderland were very unlucky not to win as Mabranque, Onouha and Zenden all went very close, but United held out for a 0-0 draw.
To level out common sense, I've made sure I've mentioned them last, for what it's worth.
The Duke's…
Goal of the Weekend: Alex's free kick, Chelsea vs Arsenal
Blunder of the Weekend: Football First's 'Game of the Day'
Save of the Weekend: Marcus Hahnemann to deny Franco Di Santo, Wigan vs Wolves
This week's teaser:
How many times has Hugo Rodallega scored and Wigan have failed to win? Who were the opposition on each occasion?