A late penalty grabs a point for Forest as Latics left to rue missed chances again.
SKYBET CHAMPIONSHIP LEAGUE – DW STADIUM – Saturday August 18th 2018
 

WIGAN ATHLETIC
Powell (2)
Grigg (30, Pen)

2-2

NOTTINGHAM FOREST
Cash (10)
Soudani (90 +1)
After losing in the 94th minute last week at Villa Park, Latics were denied all three points this week after Hillal Soudani tapped home the rebound after Christan Walton had saved Lewis Grabban's late spot kick.  A 2nd minute header from Nick Powell and a first half penalty from Will Grigg looked to have given the home side the win despite Matty Cash netting a 10th minute equaliser but more late drama leaves the side in 12th place in the Championship table with a record of won 1, drawn 1, lost 1.
Verdict
I think had we been offered this start to the season before a ball was kicked we would probably have taken it, but after losing a point last week deep into stoppage time and then dropping two this week after the clock had struck 90, it does feel like we could have made an even better start.
The main positives so far are that we don't look like we are out our depth in this league having had a tricky start and we are scoring plenty of goals and creating plenty of chances which arguably have been lacking in our last two seasons at this level and have subsequently led to our relegations.  The big negative is that while we are scoring at one end we are also conceding at the other.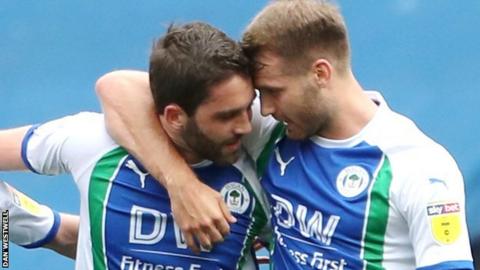 With four of the back five (Walton included) being new signings at the club, there is a sense that the defence will improve the more games they get together but just how many points will we drop in that time and how will it affect our season?  Reece James and Antonee Robinson look tremendous going forward but both have been guilty of allowing their man to get a cross into the box which has led to goals or in the case of Robinson at Villa, losing his man at the far post.  I don't want to aim too much criticism at anyone at this stage because when the fixtures came out I genuinely thought we could be staring at played 5 lost 5 so we have already exceeded my early season expectations but there is a slight frustration that we should probably have at least two more points on the board than we do and they will all count come May 5th.
I think the official got the decision right on Saturday to award the penalty but his way of getting to that decision seemed a little strange.  The assistant didn't flag for a foul and he appeared to be telling the Forest players to go away as they appealed for the decision in the traditional fashion of screaming in his face, before totally changing his mind and awarding the penalty with the assistant still unmoved on the side-line.  A qualified official on our message boards has cleared up the position of the assistant in that the referee may well have instructed him not to flag and to give his opinion using their headsets but that doesn't help the people in the stadium understand what is happening and let's face it, the paying public are the people that matter otherwise we could just take the flags off the assistants all together and they could just keep the referee updated by telling him which way the throw is and whether it's a corner or not.  It seems ridiculous to me that the assistant referee can award a penalty in the last minute and not put his flag up to do so.  Yes the decision was the right one but I don't think anyone actually left the ground knowing what had happened other than thinking the Forest players had managed to bully the referee.
The game should already have been put to bed though with some of the chances we created in the first half.  Sam Morsy hitting the post and Nick Powell somehow missing the rebound with a pretty much open goal being the two that spring to mind, but with almost twice as many shots on goal we do need to be slightly more clinical if we are going to survive in this division.
On a personal note, the game was a special one for me as I took my 11 month old daughter to her first game so at least we didn't lose :)
Paul Cook
"I don't feel hard done by. When you're talking about a team like Forest, with calibre like that, they're always capable of hurting you no matter what stage of the game it is. If I'm being truthful, I felt we did do enough to win the game, but football doesn't work like that."
Cockney Latic Man of the Match: Lee Evans
Referee: Geoff Eltringham
Attendance: 11,543
Highlights
LINE UP
WIGAN ATHLETIC
NOTTINGHAM FOREST
1
Walton
1
Pantilimon
12
James
27
Darikwa
22
Dunkley
3
Pereira Figueiredo
21
Kipre
4
Fox (C)
3
Robinson
11
Osborn
5
Morsy (C)
5
Guédioura
36
Evans
6
Colback
11
Massey
14
Cash
17
Jacobs
10
Antunes Carvalho
19
Powell
23
Lolley
9
Grigg
7
Grabban
SUBS
23
Jones
15
Steele
2
Byrne
2
Soudani
8
Vaughan
8
Watson
10
Windass
9
Murphy
14
Bruce
18
Robinson
15
McManaman
20
Dawson
26
Connolly
31
Bastião Dias
The upkeep of the site is funded solely from the advertising on site, from our own pockets and donations from users, if you would like donate it would be greatly appreciated, click here for donation page.