The FA Cup Third Round: a momentous day in the footballing calendar and definitely one to keep free in your diary as David meets and occasionally beats Goliath; plus there's the odd bit of controversy in there too.
English football just wouldn't be the same without the FA Cup, the king of all trophies that's watched all over the world with tremendous history. Ask any football fan worth their cop and they'll be able to recall magical moments such as Ricky Villa in 1990; Steven Gerrard in 2006; Ryan Giggs in 1999 and for the older ones among us, Stanley Matthews in 1953.
This is partly the reason why I can't understand why the likes of Ian Holloway almost seem glad to be out of the FA Cup to concentrate on the League. It's the FA Cup man! Plus I doubt three or four extra games this season will damage Blackpool's survival bid, they went down 2-0 at Southampton on Saturday. The Saints' reward for winning that game? A tie against Man Utd, I rest my case.
Meanwhile in the illustrious city of Hull, Wigan's squad had a refreshing look to it. Out go some of the underperforming, jaded first teamers and in come a bunch of young, eager lads and some fringe players keen to prove a point too.
The likes of new signing Adrian Lopez and forgotten man Daniel De Ridder were both impressive at the KC Stadium as Wigan attacked Hull's fragile back four, including veteran full backs Andy Dawson and Nolberto Solano.
The star of the show however was young striker Callum McManaman (right), it's great to see a local lad coming through and getting his chance in the first team. After showing the Latics' faithful some neat touches in substitute appearances against Newcastle and Bolton, he was given a start from Martinez and he took his chance to shine.
His energy, eagerness and his ability to be a real 'pest' to Hull's defence made him a star performer, he topped off his performance with a fine goal to make it 2-0 following Mohamed Diame's first half tap in. Now although I think Diame's a neat and tidy player with quick feet, how slow does he run? Having said that, his monstrous strides make up for it, has he never been introduced to long jump before?
Diame bagged another with a neat chip to restore Wigan's two goal lead, aging striker Nick Barmby bagged two goals from right wing crosses either side of Diame's strike. The only downside on an impressive Latics performance.
Sunday also saw its fair share of drama to add to Saturday's show, I'll start at Old Trafford where Kenny Dalglish took charge of his first game as Liverpool try to recover from the Benitez and Hodgson eras.
To say it started badly was an understatement, just thirty one seconds on the clock, and United were given the softest of penalties. Dimitar Berbatov went down under a 'challenge' from Daniel Agger where he was reminiscent of a prime time Cristiano Ronaldo, in terms of falling to the ground that is. Still England's 'best' referee Howard Webb bought it and Ryan Giggs tucked home the penalty with relative ease, and United were one up. 
It could have got worse for Liverpool, and it did. Steven Gerrard's red card for a lunge on Michael Carrick left a lot to debate, and I'm definitely not sitting on the fence with this one. Although it was a poor, mistimed challenge worthy of a booking, no way is that a red card. Not malicious, Gerrard had eyes only for the ball, and five years ago that was never a red. I do fear what will merit a sending off in five years time if things carry on at this rate.
Still, at least Liverpool did
n't have one of their players posting photo shopped pictures of Howard Webb sporting a Man Utd shirt on Twitter, oh wait they did.
Ryan Babel was the culprit, and if I was a Premier League manager I'd make sure players were careful about what they put on Twitter as they only ever seem to yield trouble and bad press in the football world.
For example, the less famous Marvin Morgan now of Dagenham and Redbridge, recently earned a place on the transfer list at Aldershot after stating on Twitter he 'wanted his club's fans to die'. Mindless doesn't begin to cover it.
Liverpool were dignified in defeat as they could have crumbled, yet they only lost 1-0 which can be seen as an achievement to them, they did lose at home to Wolves after all.
Twitter was also used by Queens Park Rangers players to vent their anger at Blackburn's less than popular forward El-Hadji Diouf.
Diouf, always the pa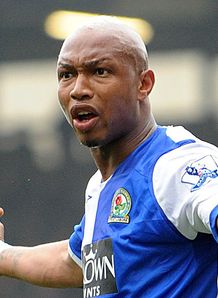 ntomime villain and unpopular at the best of times, added QPR to the long list of fans that absolutely despise him following an incident with the injured Jamie Mackie. The winger was lay on the floor with a broken leg whilst Diouf, never the sympathetic type, was trying to grab him to his feet whilst apparently laughing at him and shouting "F*** you and F*** your leg too." Which does sound like a rendition of Ce Loo Green's current chart hit.
As expected, Neil Warnock was far from happy at Diouf's mindless and pathetic behaviour, stating that calling him a 'sewer rat' would be kind to him. Rangers' players such as Jamie Mackie, Paddy Kenny and Bradley Orr showed Twitter's useful side by showing their anger towards Diouf. All of English football can stand up and say 'amen' to that!
Stevenage showed the romance of the FA Cup by beating Newcastle 3-1 at home, which is something Wigan failed to do incidentally. The League Two outfit shocked Pardew's side with goals from Stacy Long, Michael Bostwick and Peter Winn to keep their cup dream alive. The most shocking part of the game was seeing Alan Pardew using Shola Ameobi's absence as a possible excuse for the defeat, how desperate?
The tie was marred by a late incident involving Stevenage full back Scott Laird celebrating with the fans and getting a punch round the face for his troubles. He was light hearted about the situation though: "It's a good job I've got a big head so I can take it." You've got to admire that man, imagine if it was Joey Barton instead? 
It was Oasis vs Kasabi
an at the Walkers Stadium as Leicester took on Man City and Sven had a reunion with some old pals. It started well for the home side as Sol Bamba, possibly the only black man with a Scottish accent, poked home in the first minute. City weren't at their best but scored goals through Milner and Tevez to make it 2-1. Joe Hart then made an error by dropping a Paul Gallagher cross, leaving Andy King free to poke home and earn the Foxes a replay.
A nice touch by the club to recognise the talent of club fans and rock sensations Kasabian was to add their song 'Fire' as their soundtrack when they scored, which a lot less predictable than ours which is played by half the clubs in the country. Could Man City do the same with Oasis do you think? With 'Some Might Say' or 'Morning Glory' ringing across Eastlands following a goal? A suggestion to Big Dave from me would be to play 'The Verve' songs after we score, it might not catch on but at least they're local. Feel free to continue this list if you like.
Finally, a big shout out to Paul Jewell who's just landed the job at Portman Road following Roy Keane's dismissal, judging by their 7-0 defeat to Chelsea there is some work to be done. Ironically perhaps, Jewell led Wigan to promotion in 2005 at the expense of Ipswich and now he'll be fighting to get them up. Could there be a reunion of ex-Latics players such as Roberts, Ellington, Bullard and Teale at Ipswich? Watch this space…
Highlights for all the weekend's games can be found here: http://www.itv.com/sport/football/facup/matchhighlights/